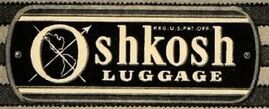 The Oshkosh Trunk Company was founded in March 1902 in Oshkosh, Wisconsin. Its industry was trunks and its headquarters remained in Oshkosh, Wisconsin. In 1919, the Belber Trunk & Bag Company acquired Oshkosh. It was sold to the Plotkin Brothers of Chicago in 1939. Oshkosh went defunct in 1962.
COMPANY NAMES
Oshkosh Trunk Company (1902-1939)
Oshkosh Trunk and Luggage (1939-?)
PRODUCTS
Your Home Away From Home (1930)
Ad blocker interference detected!
Wikia is a free-to-use site that makes money from advertising. We have a modified experience for viewers using ad blockers

Wikia is not accessible if you've made further modifications. Remove the custom ad blocker rule(s) and the page will load as expected.