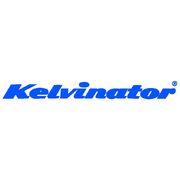 The Kelvinator Corporation was founded in 1914 by Nathaniel B. Wales in Detroit, Michigan. Its industry was appliances and its headquarters remained in Detroit, Michigan. It is currently a brand under Electrolux.
It had a Canadian subsidiary called Kelvinator of Canada, Ltd. based in London, Ontario (previously in Windsor, Ontario) while its British subsidiary: Kelvinator Limited, was located in London, England.
COMPANY NAMES
Electro-Automatic Refrigerating Company (1914-1916)
Kelvinator Company (1916-1937)

Nash-Kelvinator Corporation (1937-1968?)
PRODUCTS
4-Way Cold Kelvinator (1930)
"Automatic Cook" electric range
Electric water heater
Freezer chest
Kelvin-et
Kelvinator Ice Cream Cabinets
Ad blocker interference detected!
Wikia is a free-to-use site that makes money from advertising. We have a modified experience for viewers using ad blockers

Wikia is not accessible if you've made further modifications. Remove the custom ad blocker rule(s) and the page will load as expected.