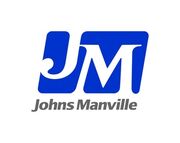 The Johns Manville Corporation was founded in 1901 by Henry W. Johns and C. B. Manville in New York City, New York following a merge between the H. W. Johns Manufacturing Company and Manville Covering Company. Its industry includes construction manufacturing and its headquarters are in Denver, Colorado. It has a Canadian subsidiary: Canadian Johns-Manville Company.
COMPANY NAMES
H. W. Johns-Manville Company (1901-1926)
Johns Manville Corporation (1926-1981)
Manville (1981-1982)
Manville Corporation (1988-1997)
Johns Manville (1997-)
PRODUCTS
Asbestocel
Asbestos Roll Roofing
Farm Idea Book (1944)
Ad blocker interference detected!
Wikia is a free-to-use site that makes money from advertising. We have a modified experience for viewers using ad blockers

Wikia is not accessible if you've made further modifications. Remove the custom ad blocker rule(s) and the page will load as expected.