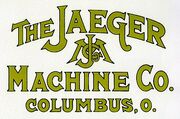 The Jaeger Machine Company was founded in 1906 by Gebhard Jaeger in Columbus, Ohio. Its industry was concrete mixers and its headquarters was in Columbus, Ohio. It went defunct in 1992.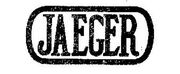 PRODUCTS
Jaeger Tilting Drum
Tip-Over Water Tank
Automatic Discharge Device
No. 5L-ST mixer
No. 5L-CT mixer
No. 7L-1 mixer (steel wheels, rubber wheels)
No. 3 ST trailer mix
No. 3 1/2 ST trailer mix (pneumatic wheels, solid cushion wheels)
No. 3 1/2 L-ST mixer
No. 3 1/2 L-CT mixer
ADVERTISEMENTS
Ad blocker interference detected!
Wikia is a free-to-use site that makes money from advertising. We have a modified experience for viewers using ad blockers

Wikia is not accessible if you've made further modifications. Remove the custom ad blocker rule(s) and the page will load as expected.