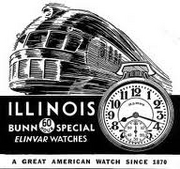 The Illinois Watch Company was founded on December 23, 1870 in Springfield, Illinois by John C. Adams, John W. Bunn, and various additional financiers. It was a watch manufacturer. Its headquarters were in Springfield, Illinois. It has been defunct since 1928 when it was bought out by the Hamilton Watch Company.
MODELS
Marquis-Strap (At least 1927-1928)

Marquis-Autocrat (At least 1921-1928)
Ad blocker interference detected!
Wikia is a free-to-use site that makes money from advertising. We have a modified experience for viewers using ad blockers

Wikia is not accessible if you've made further modifications. Remove the custom ad blocker rule(s) and the page will load as expected.