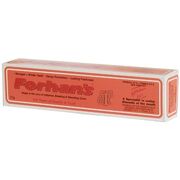 The Forhan Company was founded in 1913 by Richard J. Forhan in Brooklyn, New York. It's industry works with gum treatments, and it's headquarters is in New York City , New York. It was sold to the Zonite Products Corporation in 1929 where it existed as a brand. At some point of time the American market diminished but it remained a popular brand in India. Down the line it was owned by Wyeth Laboratories which sold Forhans in 2005 to John Oak Remedies. It later passed down to the Anchor Group in 2007 which was acquired by Matsushita.

COMPANY NAMES
Forhan Company (1913-1929)
PRODUCTS
Gum Paste (At least 1920-1943)(Probably longer)
Ad blocker interference detected!
Wikia is a free-to-use site that makes money from advertising. We have a modified experience for viewers using ad blockers

Wikia is not accessible if you've made further modifications. Remove the custom ad blocker rule(s) and the page will load as expected.