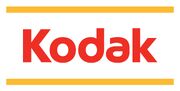 The Eastman Kodak Company was founded in 1881 by George W. Eastman. It's industry is digital imaging and photography. It's headquarters is in Rochester, New York. Lately the company has been on the verge of going defunct.
It had a Canadian subsidiary called the Canadian Kodak Company, Ltd. that was based in Toronto, Ontario.
COMPANY NAMES
Eastman Dry Plate Company (1881-1884)
Eastman Dry Plate and Film Company (1884-1889)
Eastman Company (1889-1892)
Eastman Kodak Company (1892-)
PRODUCTS
Cine-Kodak (1923-mid 1930's)
Ciné-Kodak "Eight-25" Camera (1932-1947)
"Magazine" Ciné-Kodak ("Eight" or "Sixteen") (1945-1950) (1936-1945)
Kodascope Eight-33 (1935-1948)
Kodascope Sixteen-20 (1941-1952)
Kodaslide Projector Master Model (1947-1956)
Cine-Kodak Reliant Camera (1949-1954)
Kodak 35 Camera (1938-1948)
Kodachrome Prints (1935-2009)
No. 3A Kodak Junior (1918-1927)
ADVERTISEMENTS
Ad blocker interference detected!
Wikia is a free-to-use site that makes money from advertising. We have a modified experience for viewers using ad blockers

Wikia is not accessible if you've made further modifications. Remove the custom ad blocker rule(s) and the page will load as expected.