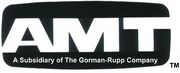 The American Machine & Tool Company was founded in 1928 in Royersford, Pennsylvania. Its industry is machinery and it seems to still be around today. They were acquired in 2002 by the Gorman-Rupp Company.
PRODUCTS
8" Arbor Power Saw
Full 22" Long, 4 1/8" Jointer-Planer
Bench Drill Press
6" Swing 3-ft. Lathe
High Speed Tilt Arbor Bench Sabre Saw
Ad blocker interference detected!
Wikia is a free-to-use site that makes money from advertising. We have a modified experience for viewers using ad blockers

Wikia is not accessible if you've made further modifications. Remove the custom ad blocker rule(s) and the page will load as expected.